The Difference Between the Bam Hightech Violin Cases
One of the most common questions we get is: what are the differences between the Bam Hightech cases? This is a great question, since the Bam Hightech violin cases offer different shapes, materials, and styles. For the purpose of this article, we will only be focusing on the Bam Hightech violin cases, not the viola cases. Since they come in different sizing and style options.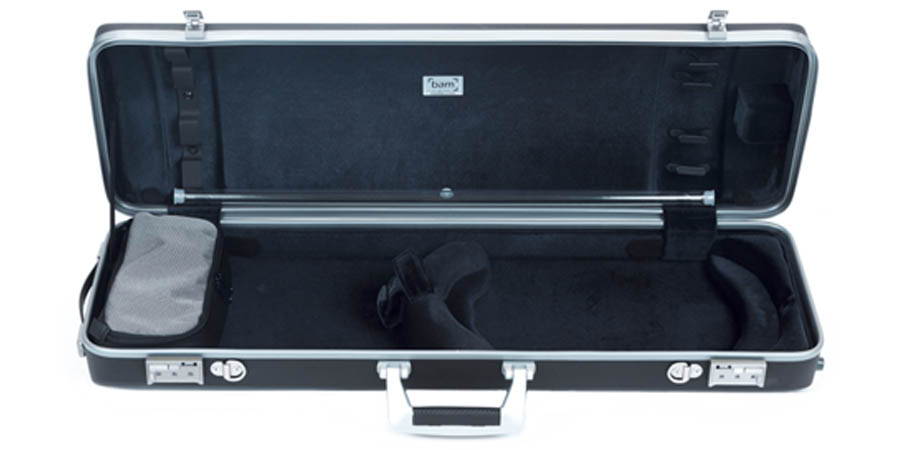 The same protection and durability
Almost all of the Hightech cases offer the same protection and durability. They may come in different shapes, styles and options, but they are all made of the same high performance materials (ABS, Airex foam, another type of ABS), also know as their tripleply exterior structure. The only exception would be their Hightech L'opera cases, which are made of 100% polycarbonate shells. This material is even stronger than the tripleply structure. And the L'opera cases feature polycarbonate locks also (stronger locks). All the Hightech cases feature foam core interior cushions. Which provides great suspension, and slows down heat penetration. You can leave a Hightech case under the sun longer than a carbon fiber case.
The Four Different Shapes
Bam Hightech violin cases come in four different shapes: cabin, contoured, slim, and oblong.
1. Bam Hightech Cabin Cases
These cabin cases were designed for air travel. The cases themselves are about 24" long. Which means they meet most of the major airline carry-on regulations. However, they have no bow-holders, since the bow itself exceeds 24" long. A bow tube is included (if purchased from Great Violin Cases). The bow tube can fit up to 2 bows. 2 Elastic bands are also included to secure the bow tube to the case. This way, if the airline does not allow the bow tube as a carry-on because of its' length, it can be checked in. After all, it's a lot safer to put the bow under the plane, than the instrument itself. The bow tube can also fit in standard check-in luggage. These cabin cases have 3-digit combination locks.
2. Bam Hightech Contoured Cases
These contoured cases feature a simple and compact shape. They have 2 bow-holders, and a velcro strap for shoulder rest along the interior side of the case. They also have small removable accessory pouches, good for rosin and cloth. These cases are very popular, because they are light, protective, durable, and compact. Traveling violinists often still prefer these contoured cases to the cabin cases because many major airlines still accept these cases as carry-on luggage, even though they exceed the maximum length allowed. And many violinists who prefer to keep their bow with their instrument would choose this contoured case over the cabin. These cases have key locks (not combination locks). And the L'opera contoured cases have polycarbonate key locks.
3. Bam Hightech Slim Cases
Also known as the half-moon cases, these cases are more spacious compared to the contoured cases. They have 2 bow holders, and larger removable accessory pouches. There's a slim space to the side of the neck of the violin for a shoulder rest. However, this space is quite compact, so it can only fit a Kun shoulder rests. The space would not work for any shoulder rest larger than a Kun shoulder rest. These slim cases also feature 3-digit combination locks.
4. Bam Hightech Oblong Cases
These oblong cases have 4 bow holders. They have large removable accessory pouches, and a velcro strap under the neck of the violin for shoulder rests. They can fit larger shoulder rests, such as Bon Musica shoulder rests. These oblong cases come in 2 options: with attached sheet music pocket, or without attached sheet music pocket. Bam also has attachable sheet music pockets sold separately. The difference with these pockets is that they are smaller, and cushioned. And they are attached to the backside of the violin case. So it can provide extra padding if you carry the case like a backpack. All Hightech oblong cases feature 3-digit combination locks.
Now that we have looked at the different shapes, let's explore the different styles. Bam creates different lines of styles, also known as collections. For example, the La Defense collection features orange and brushed aluminum shells. And the La Defense collection comes in 3 different shapes: contoured, oblong, and slim. Some collections may only have one shape, such as the L'opera collection, which only has contoured cases.
Not to confuse you, but "Hightech" is also a collection. It's actually the original Hightech cases. Later in time, Bam created new collections that feature the same Hightech shells, but in different styles and exterior looks. That is why at the beginning of this article, we mentioned that all the Hightech cases are pretty much the same in terms of protection, durability, and weight. So for example, here is an original tweed Hightech contoured violin case. And here is a black panther Hightech contoured violin case from the Bam "panther" collection. It's the same shape and Hightech protection, but the exterior style is different.
Now let's take a look at some of the different styles starting with the most popular one.
Bam Panther Collection
These panther cases feature a thin rubber exterior layer. If you look up close, it looks like a lot of little grooves and bumps. Which is why these cases are anti-slip. If you place the case on your lap, you don't have to worry about it sliding left and right. And they look very elegant.
Bam La Defense Collection
These cases feature bright orange and brushed aluminum exterior looks. They also come with orange shoulder straps. The brushed aluminum contoured case is one of the most popular cases we have.
Bam L'etoile Collection
These cases feature genuine leather on the top shell, and brushed aluminum bottom shells. They come in several color options, including pink leather! Due to the high demand of these nice looking leather cases, many of them have to be back ordered.
Bam L'opera Supreme Collection
These cases are among the newest collection from Bam. Not only are they different in style, they're also different in protection and durability. These are the only violin cases made of 100% polycarbonate shells. Which means they're stronger and more durable. The locks are also made of polycarbonate. And polycarbonate is harder to scratch.
Bam Paris Collection
These colorful cases are limited edition. They come in oblong, contoured, and slim. Perfect for professional violinists who like something a little more colorful.
Bam Connection Collection
The Bam Connection cases are beautiful leather cases. The entire Hightech shell is covered under a layer of PU leather. This type of leather is more water-resistant compared to genuine leather. It's also easier to clean, and doesn't fade under sunlight.
So when it comes to picking the right Hightech case for you, first see which shape suits your needs. Do you need sheet music pocket? Do you have a large shoulder rest? Then decide which style you like the most. Would you prefer something a little more functional, such as an anti-slip panther case? Or something fun, like a Paris case? Bam definitely has a lot of options to choose from!